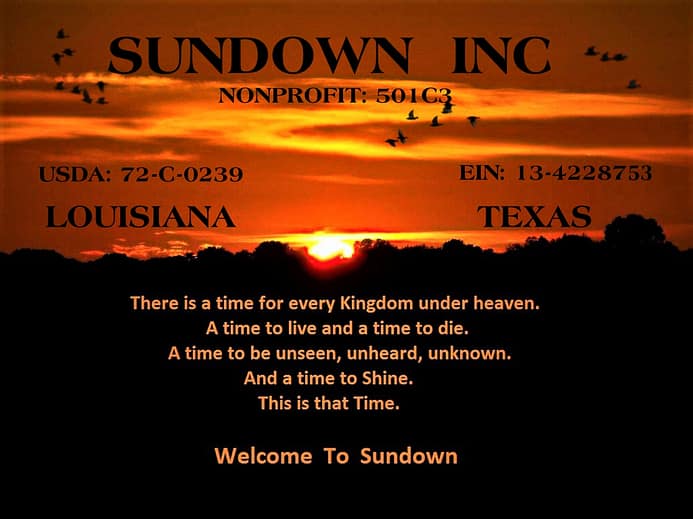 NATURE CONSERVATION    WILDLIFE MANAGEMENT
DOMESTIC ADMINISTRATION   EXOTIC STEWARDSHIP
ZOOLOGY
Welcome to the home of Sundown Inc Nature Preserve, a professional, brick-and-mortar, non-profit, no-kill, animal foundation, located in Louisiana & Texas that is dedicated to better animal welfare for all. The first thing we want you to know is that Sundown is not a business. Sundown is a ministry. Businesses sell. Ministries give. Big difference. 
♥ The person who does good does God's work – John.♥
Community: Sundown provides multiple community services for our feral, homeless victims including feeding programs, spay/neuter programs, heartworm treatments, emergency veterinarian care, makeshift shelters, and much more. 
Rescue: Sundown deals with a wide range of animals, rescuing them from harsh streets as well as from impervious owners, and working 24/7 to place them with gentle, loving, new caregivers who appreciate them and the joy they bring into the home.
Sanctuary: As well as new births, Sundown specializes in handicapped, disabled, geriatric, trauma, and abuse cases. Our sanctuary focuses on those animals that have been dealt the worst and have been subjected to situations that will scar them for life. But they are still precious spirits who deserve the very best out of life. And that is exactly what we provide. Permanent residents of the Sundown Sanctuary may not have had the best start, but they will undoubtedly finish their race with the dignity they deserve. And we make sure they get it all – cageless environments, good food, clean water, fresh air, exercise, and medical attention, including surgeries, fluid therapy, pain management, and so much more. Tonight, they sleep safe and snug, knowing that they are loved. 
Education: Sundown works with both professional corporations and entities as well as the general public, not only in exotic and domestic ownership but also in the pros and cons of wildlife, including the enormous part they play in our ecosystems and how communities can implement better forms of cohabitation among them. Check our new EDUCATIONAL COURSES.
Listed below are just some of our proud attributes:
Created and developed the standard Rehabilitator's permit test which is used by LWF. (UPDATE: Apparently, they didn't appreciate this being made known so now they may be claiming otherwise – big surprise.) 

Developed a Contingency Program (that scored such high marks) the USDA asked our permission to use it as a teaching guideline for other foundations. 

Operates on a 24/7 basis (no breaks from the horrors of inhumanity).

Assists in EMR situations.

Offers rescue and relocation programs.

Donates buildings ($3,000 to $15,000) and other supplies to different organizations … we know how to share.

Works with authorities to remove hoarded/abused animals from deplorable situations.

Participates in multiple community programs such as the popular TNR.

Offers Hospice programs.

Provides educational classes for both professional foundations (PetSmart/veterinarians/others) as well as individuals to aid and assist in better animal welfare.

Teamed up with Benner's to design & manufacture the first cageless "Cat Fence System" that has become so popular today.

And that is just half of what we have done and continue to do. Please take a few minutes to look around our home to view all that we offer. We are constantly adding and updating information, so be sure to check back regularly or sign up for our newsletter to stay informed and up-to-date on the matters that mean the most to you.

Godspeed.

Don't forget to show some love – Donate now so we can do even more!