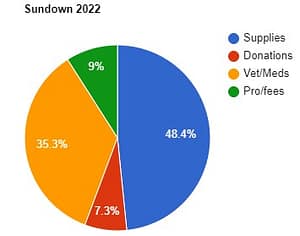 Bring all the tithes and offerings (donate) into the storehouse so there is meat in My house.
A storehouse is any foundation (including but not limited to a church) that receives donations to disperse supplies into the communities in times of need. 
So, why sow into Sundown? 
Because – as a storehouse – that is exactly what we do!
If you read our HOME page, you are already well aware of the fact that Sundown is a leader in better animal welfare. We are good ground – the best kind of ground to sow into because we are always at work in multiple communities to improve the lives of the innocent. We develop. We create. We design. We work!
Your support (via partnership or single donation) is vital to our spay & neuter programs, feeding programs, emergency transport services, Shelter – N – Place programs, heartworm treatments, vet services, medications, and countless other programs and services that we offer.
We also have housing programs in play. These buildings ( like our new 10′ W, 12′ H, 30′ L Housing Unit) allow us to home more unwanted and/or unadoptable animals of every creation. After all, we can't just leave them in the streets – and with foster parents so hard to find – these buildings are mandatory. 
Rest assured, every penny goes directly to the animals. Neither partnerships nor donations allow for personal compensation of any kind. It's not that we're stingy or don't believe our dedicated volunteers deserve a little reward, most certainly they do. But working with animals isn't about money. It's about love. That is our reward.
     We don't want anyone suspecting us of taking one penny of the money (given to the animals) for ourselves. We're being careful in our reputation with the public as in our reputation with God. 
2 Cor 8:20.
A foundation of excellence & integrity. Unlike most rescue foundations, Sundown does not keep all of the money in its own stockpile. As a matter of fact, Sundown supports other nonprofit animal foundations all over the country. (This percentage is noted on the pie chart.) We do so because there are many places that we can't reach with our own hands, but supporting other foundations that are at ground zero allows us (and you) to still be a part of it all.
And when you donate, we know you trust us to do whatever it takes to save lives. And you can rest assured that is precisely what we do. Every life matters. Every life deserves love and security. We know you feel the same. That's why you're here. 🙂 And we thank you.
If you can become a foster parent, let us know. If you can donate buildings, vehicles, property, etc., we can make use of them all. Call us today. Our attorneys will assist in all matters for a smooth, proper transition of title at no cost to you.
Below are four ways to donate: For longer amounts, please cover the processing fees or send us a check – address listed below. Paying online can be done via Paypal, Donorbox, or Giveliffy via text.
And God bless you, indeed.
CHECKS –   Sundown Inc.   P.O. Box 62743 – Lafayette Louisiana (La) 70596-2743

Text-To-Give: https://givelify.com/app


Save